30 Years and Counting
Hang on for a minute...we're trying to find some more stories you might like.
This year is Mr. Daugherty's 30th teaching for Bishop Schools
I think we can all agree that it would be difficult to keep the same job for 30 years. That's why I think we should all applaud Mr. Daugherty on his 30th year teaching for Bishop Schools. He first taught for three years in salina California but it wasn't a good fit. So he moved to Bishop after getting a job as the band teacher and has been teaching music to 5th-12th graders ever since.
Daugherty's worth ethic and musical talent started at a young age. His school had a great high school band program and that was taught by a man who was a former marine corps Sargent. He was strict and held them all to a high standard, teaching him to be a talented musician, and in Daugherty's words, " He demonstrated the type of person I wanted to become. Not a Marine of course but a person with high standards, integrity, and a drive to always be better."
Teaching students itself can be a struggle sometimes, but the struggle only increases when you hand them an instrument. When asked about the stress that can build with being a band teacher Daugherty responded "I think every job can get stressful at times. The rewards are worth the effort." Mr. Daugherty has taken many students from not knowing how to play an instrument in 5th grade, to seeing them thrive as a musician in their last years of high school. When asked how the rewarding the process is Daugherty replied "Each group of kids brings their own set of challenges. That moment when a young 5th grader suddenly gets it and it becomes theirs to own, and they are so excited to show me that they can do it, "Priceless". They may not sound like much but the achievement was theirs. Taking them from that moment through to the amazing musical performances the BUHS band is capable of, is incredibly rewarding."
Though Daugherty has been teaching for quite some time, he doesn't plan on retiring soon, stating "I want a new truck first" As long as he has been teaching there has never been a point for him when he felt like doing anything else saying "I've had some up and down years, mostly up. I can't remember a time when I wanted to throw in the towel." Daugherty does do other things with his Trumpet playing skills than just teaching. He performs with the Eastern Sierra orchestra and occasionally the Bishop community band.  One thing that makes Daugherty such a good teacher is his ability to adjust his teaching styles for students, and trying his best, "I don't always get it right but I keep trying."
Dan Daugherty, Band, Bishop Schools, BHUS, Mr. Daugherty
About the Writer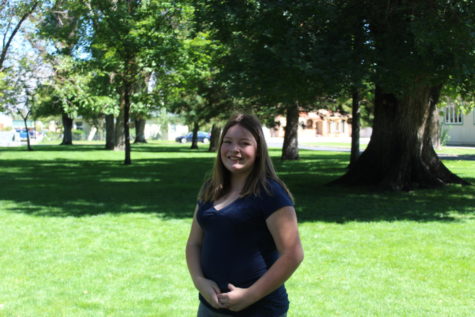 Allison Birkhimer, Assistant to the News Editor
Allison Birkhimer is a freshman at Bishop high school who is inspired to become a  lawyer. She's piqued interest in law because she can build a strong...