The Rivalry Continues, Bronco vs. Huskies September 9th, 2016
Bishop Broncos destroy Mammoth
The Broncos vs. Huskies rivalry game brought people from all around Inyo and Mono county to experience the tension that was present during the game.  Pregame rituals roared as the crowds gathered in the stands with delicious foods from the snack shack, and the players got their game faces on.
Experiencing the tension that was out on the field was extremely intriguing, the past games were all leading up to the defeat of the Huskies, and the Broncos were not going let those slip under their noses. In the first quarter of the game the Broncos got a 22 point lead over the huskies and the points kept rising. But as the score rose so did the penalties, the broncos were called on 17 penalties while the huskies were called on 5 penalties , when talking to Coach Palu about the specifics that the Broncos needed to work on he stated,  " We need to clean up the penalties, and play some cleaner football." The mammoth commentators were feeling the same exact feelings. Tanner Van Tassel's ( #3 Huskies) parents stated," It was pretty one sided, and sloppy on both sides, and a lot of penalties."  So Our bronco boys need to clean up on penalties.
In the 2nd quarter of the game the broncos scores a total of 14 points that were added on to the first quarter score of 22, the broncos were at a lead of 36 points, and the score kept going. By the 3rd quarter the broncos were at a score of 43-0. The fourth quarter included the Huskies with their first points. Our Broncos won the game 43- 6 .
Coach Palu in the post game interview had an entirely positive outlook on the game and mentioned a player in the Huskies team in particular that set the tone for their team, " Matthew Hornbeck #21, I know Matthew a little bit as a man, and man he gave great effort."  On the Bishop team one player in particular caught the coaches eye, " After watching the film back a few times Ryan Rennie had a fantastic game for us." The game brought Bishop pride, and had entertained all the commentators that came to bask in the tension of this never ending rivalry.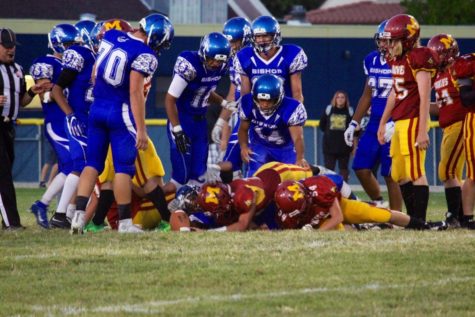 img_2281-1 Video By: Chloe Almeida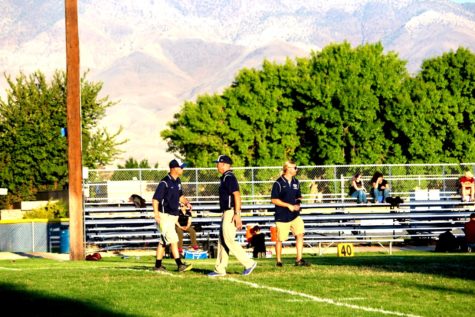 Bishop Union High School, Bishop Bronco Football, Bishop Mammoth football game, Bishop High School Varsity Football, Ryan Rennie Bishop High, Matt Hornbeck Mammoth
Leave a Comment