Danica Thornburg- Senior Profile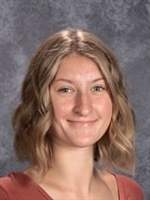 Danica Thornburg is one of the most exceptional students, athletes, and role models on campus. A solid student, a great athlete, and ASB President, there are few people that have managed to strike the balance between student and athlete quite like she has.
Fresh out of her last soccer season as a Bronco, Danica has said that she is "super bummed with how the soccer season turned out" because "they had a great team with a ton of talent, dedication, and potential. [They] just were not on [their] game and it was a bummer that it had to go that way".Danica says that she will "miss the sport itself the most because it is competitive and super fun to play especially when playing against other great teams", and she will "really miss the team. [They] all have a great bond and enjoy being in each other's presence".
As she turns her attention towards graduation she says that her favorite memories here at BUHS have been her soccer seasons, and she hopes to continue both skiing and soccer while attending college. She is currently "considering Point Loma Nazarene University, Colorado State, and UNR", and says that she plans on moving away from Bishop, but will miss "the mountains, skiing, my family and my close friends the most". She feels prepared for college and is excited about getting to experience new people and places, but fears adjusting to a new place after having been so accustomed to the way things are right now.
Danica says that she would like to pursue a career in sports medicine because she believes "that it would be fun to help people and work in a sports-related environment". In 10 years she hopes to be living "in a town by the beach or in the mountains", and would like "to be working as a physical therapist or sports medicine physician". She hopes that BUHS will remember her as "enthusiastic and nice". Danica's closest friends know that her future is very bright and she has great things coming her way.

BUHS, Seniors, Class of 2019, Senior Profile, Bishop, Danica "Nancy" Thornburg