Varsity Boys Soccer
Eric Lind, Assistant to the Sports Editor
January 25, 2019
Hang on for a minute...we're trying to find some more stories you might like.
Varsity boys Soccer traveled to Desert this Tuesday and came back with a dub in hand. They came out to an early lead in the first half scoring one goal. The team then extended the lead in the second half shutting out Desert with a final score of 4-0. The travel game extended high hopes for the players onto Thursday nights game.
On Thursday night Varsity Boys Soccer then went on to beat the Cal City Ravens 9-0. Two shutouts in one week put the Bronco Boys in a prime conference position for the remainder of the season.
Here is a brief summation of last nights game provided by Jeff Gabriel, head coach of the team "The Bishop Union High School Boys Soccer team played Cal City High School Boys soccer team tonight. In the 16th minute, Kennedy Michel scored a goal to start the night off. Five minutes later, Andres Rios scored a goal off an assist from Ismael Santana. In the 29th minute, Hugo Santana scored Bishop's third goal and followed with the fourth team goal four minutes later. In the second half, Hugo Santana scored two more goals while Ismael Santana scored his first goal of the night.  Two of Bishop's soccer team defenders scored as well in the 62nd minute and the 73rd minute, respectively. Those two center backs were Cristian Cortez and Martin Cruz-Martinez. The final score was 9-0 which gives Bishop a 10-4-0 overall record and an 8-0 High Desert League record. "We started the evening similar to the match on Tuesday evening against Desert High School where we were flat and missing a number of chances to score," said Head Coach Jeff Gabriel. "Unlike Tuesday night's match where we scored only one goal in the first half, tonight we were able to score four goals in the first half which helps with time of possession and builds player confidence," added Coach Gabriel.

Bronco Soccer is quite busy next week with a game at Boron Tuesday the 29th and a home game on Thursday the 31st. These league games will further determine Bishops conference seat within this so far exceptional season. Refer to the Bronco Roundup next week for more information regarding BUHS sports!
BUHS,Soccer,Varsity,CIF,Boys Soccer,Home game
About the Writer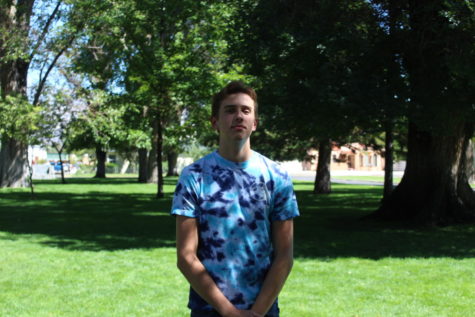 Eric Lind, assistant to the sports editor
Eric Lind, a senior at BUHS is planning to become a fish and game warden. After high school Eric is interested in attending a four year university. Two...