Bronco's Football Season Comes to a Close
Hang on for a minute...we're trying to find some more stories you might like.
Bishop Loses the Battle of the Broncos
The postseason is the best time in any sport, emotions are at their highest, fans are more involved than ever, and heroes can come from the unlikeliest of places. Bishop and Dos Palos met each other in the first round of the playoffs in a battle of the Broncos, with both teams looking to advance their postseason run, as well as to find some new heroes in their programs.
Bishop kicked off to start the game and after converting a second and long and a sack by Tristan Valle, the Dos Palos running back Ronald Johnson broke off a long run to open the scoring in the game. Bishop got the ball back but after a sack and a few plays that went nowhere, the drive ended with them going 3 and out and they had to punt the ball away. Dos Palos continued to burn the Broncos with their passing game, completing a long pass that set up another TD run for the Dos Palos Broncos. An illegal kick by Dos Palos gave Bishop the ball at their own 35, and despite McClean converting on third and long, and a good catch and run, Bishop got tackled in the backfield, taking them out of field goal range and forcing them to punt. Dos Palos took over possession at their own 1-yard line, and despite getting a false start called on them, Johnson found a way to break off a 53-yard run to close out the first quarter.
At the start of the second Dos Palos broke off what would have been another long TD run if weren't for a holding penalty that negated the play, and they ended up having to punt the ball away. Bishop, however, fumbled and it was recovered by Dos Palos, but Mark Mayhugh earned his 9th interception on the year shortly after. Dos Palos answered with an INT of their own after a McClean pass was deflected off a helmet, and into the hands of a Dos Palos defender. That turnover set up another TD run for Johnson, who juked out Bishop's 4 best tacklers on his way to his 3rd score of the game. Bishop's woes continued on their next drive, after a pass from Clay Omohundro was bobbled and picked off again by Dos Palos, a turnover that culminated in a TD pass for Dos Palos on a 4th and 5 attempt. The Broncos got the ball back with very little time left before the half and mounted a drive that ended with an incomplete pass as time ran out to end the first half of play.
Bishop got the ball to start the third and mounted an impressive eight and a half minute drive, that ended in a turnover on downs on Dos Palos' 5-yard line. The third quarter went by without a score, but not long into the fourth quarter Dos Palos completed a 60-yard catch and run that saw several Bishop defenders being juked out again on a long scoring play. After Dos Palos missed their PAT, Bishop got the ball back but fumbled again in a chaotic play in which Bishop coughed up the football, then Dos Palos recovered fumbled themselves, before recovering their own loose ball. Dos Palos took full advantage of this turnover and marched into the end zone again making the score 40-0. All that Bishop could hope to do was not get shut out, and thankfully they got 6 points on the board when Mayhugh caught a pass in the end zone, but unfortunately, their PAT attempt was blocked. Dos Palos got the ball back and ran out the final minutes on the final game of the season for Bishop, and the final game for some of the Seniors.
When Coach Arnie Palu was asked for his thoughts on the season he compared it to a meal at a restaurant. Palu said that "pre-league is the appetizer, the regular season is the main dish, the playoffs are dessert, and we ended up getting served a bad piece of pie." Palu said that he felt the team "never really rebounded from our loss to Cal-City and the hangover from that loss carried over into the playoffs." Coach also said that he "feels horrible for the Seniors who have to leave with a bitter taste in their mouths, and I feel like I've let them down." For his last comment about the lost, Palu said that "every time you lose a big game like this, a part of you dies. Right now, I feel like I lost my spleen." When asked if there was anything he'd like to add Palu said "It was a tough way to end a fine season. Hats off to Dos Palos, they played well and took advantage of our miscues. Thank you to our Seniors for their hard work and dedication to the program. Thank you to our wonderful coaching staff and their families for their time and dedication to our kids." While the Bronco football season might be over, there is still so much to come throughout the rest of the year and we here at Bronco Roundup will be here to cover all the action for you, so congratulate the football team on s great season and remember, it's great to be a Bronco.
Bronco Stats
Clay Omohundro- 8-18 with 98 passing yards and 1 passing TD, 9 carries with 35 rushing yards
Steven Paco- 17 carries with 50 rushing yards
Mark Mayhugh- 4 receptions with 58 receiving yards and 1 receiving TD, 5 tackles, 3 solos
Luke McClean- 1-4 with 15 passing yards, 7 carries with 7 rushing yards, 3 receptions with 30 receiving yards
Manny Talavera- 5 tackles, 2 solos
Patrick Flanigan- 4 tackles, 2 solos
Tristan Valle- 4 tackles, 3 solos
Football, Bronco Football, Broncos, Postseason, CIF, Goodbye Seniors
About the Writer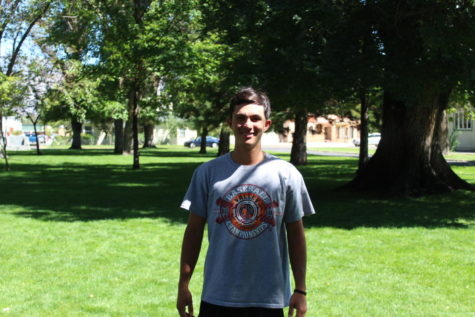 Matthew Rosga, Sports Editor
Matthew 'Rosga' is a senior at Bishop Union High School, as well a journalist for the 'Bronco Roundup' who has aspirations of being a Major League...