Bronco Boys Are On a Stampede
Hang on for a minute...we're trying to find some more stories you might like.
Bishop Blows Out Sierra, and Palu Picks Up First 3 Game Win Streak As Head Coach
The Bronco Boys came into Friday night looking to come out with one more big win before heading into league, and boy did they deliver. The Bronco defense got the game started off to a strong start, forcing Sierra to punt the ball away, but the Bishop offense came up short on a fourth down conversion. Fortunately for the Broncos, they got the ball back quickly thanks to the defense, and were able to get into the end zone first on a 31 yard run by Junior Wesley Pettet, helped out by a big block from Senior Luis Esparza.
The Bronco defense continued to be dominant in the game, forcing another punt that Pettet got a hand on, setting up the offense with great field position, followed by a 30-yard TD pass from Mcclean to Braithwaite. The Bronco defense then got an interception by Braithwaite, which opened the door for Sophomore Steven Paco's 8 yard TD run. It didn't take the Broncos long to get back into the red zone via a 30-yard pick 6 by Senior Mark Mayhugh. Mayhugh didn't take long at all to have another highlight play when he got another interception good for 7 yards, helping set up the offense for Mcclean's 49 yard TD run, but the PAT attempt was missed due to a bad snap.
Senior Hunter Beall set the tone for the second half of play with his 31-yard kickoff return, leading to an 8 yard TD run by Paco. Mark Mayhugh was all over the field in the game, earning his 3rd interception of the game, setting up Omohundro's 27 yard TD pass to Senior Michael Felgar.
Brady Womack also had a big play, forcing a Sierra fumble which was picked up by Sophomore Anthony Diaz, leading to another TD for the Broncos, courtesy of a 14 yard run by Omohundro. The offense never took their foot off the gas, scoring again in the final quarter of the game on a 52 yard TD run by Paco for the final score for the Broncos. Mark Mayhugh got his 4th interception of the game to give the Broncos the opportunity to kneel and run out the clock, giving us the final score of 61-0.
This victory set the Broncos on the right track for their game against Kern Valley this week and gave Coach Palu his first three-game win streak as Varsity head coach. Palu says that he hasn't given much thought to his first 3 game win streak, but says that "it's awesome to have the success, but it comes from the work that the boys have put in". Palu says that this win "has given the team a nice gain of confidence", and it was a good set up for the team to enter league play against their rival the Kern Valley Broncs. The Broncos will head to Kern Valley on Friday to take on the Broncs at their home field.
Bronco Stats
Michael Felgar- 1 reception, 27 receiving yards, and 1 receiving TD, 1 solo tackle
Mark Mayhugh- 1 reception for 4 yards, 4 interceptions
Clay Omohundro- 3-5, 42 passing yards, 5 carries, 28 rushing yards, 1 passing TD, 1 rushing TD
Luke Mcclean- 2-4, 36 passing yards, 9 carries, 89 rushing yards, 1 passing TD, 1 rushing TD
Steven Paco- 12 carries, 127 rushing yards, 3 rushing TDs
Wesley Pettet- 3 carries, 38 rushing yards, 1 rushing TD, 12 total tackles, 7 solo
Manny Talavera- 2 carries, 30 rushing yards, 10 total tackles, 5 solo
Jaden Braithwaite- 1 reception, 30 yards, 1 receiving TD, 1 interception
Football, Bronco Football, Broncos, Michael Leroy Felgar Jr, BUHS, Bishop
About the Writer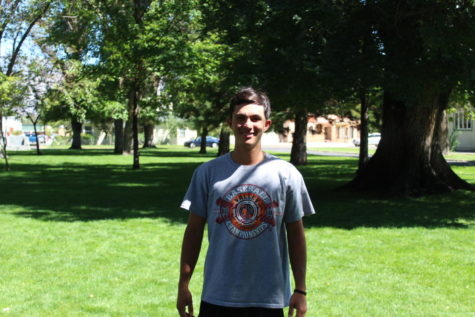 Matthew Rosga, Sports Editor
Matthew 'Rosga' is a senior at Bishop Union High School, as well a journalist for the 'Bronco Roundup' who has aspirations of being a Major League...