Carissa Devine, New Librarian
Brand New Librarian
Carissa Devine, who has worked in multiple countries as a teacher has become our new Librarian. She has worked hard to follow her dreams. She wants to make a difference in the community, and becoming a librarian could help her.
Devine grew up in York, Pennsylvania. Although she specified that it didn't really feel like home due to all of the growing suburbs, she still visits her family but is proud to call Bishop her home. She got her education at Lebanon Valley College and an International Education through George Mason University. She was a double major as an undergrad, focusing on world religion and philosophy.
After her time at school, she went to India to do anthropological and philosophical work. However, she had always enjoyed challenging herself. When asked about what she did there she said, "I've always enjoyed stepping outside of my comfort zone so that I could broaden my horizons. So I started volunteering at a kindergarten and teaching English to a handful of disadvantaged kids in the area, and it was through this experience that I learned working with youth is extremely inspiring for me."
She had also gotten a certificate for International Education so that she could teach around the globe. However, she had decided that she wanted more one on one with students and being a librarian was the perfect way to do that.
Librarian, school, bishop, Bishop. BUHS,
About the Writer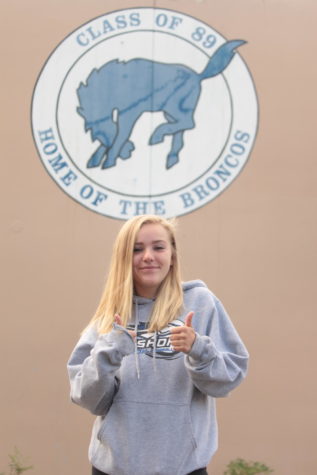 Shania Womack, Journalist
Shania Womack, a sophomore here at BUHS, is a journalist for Bronco Round-Up. Although she is not 100% sure of what she wants to do after high school,...