Bronco Boys Win it in 6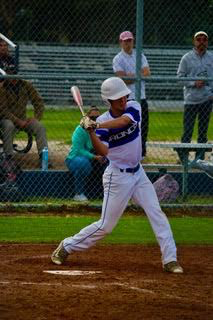 Hang on for a minute...we're trying to find some more stories you might like.
Bronco Baseball Team Beats Cal-City in Last Home Game
The Baseball team looked to send their Seniors off with a win in their final regular season home game, and they delivered. The Bronco defense backed up Junior Austin Thomas who had a solid start on the mound, who held he Ravens scoreless in the top of the first before Bishop brought home 3 runs in the bottom half. The Ravens answered with a run of their own in the second, but the Broncos kept their foot on the gas bringing home 5 more runs. Neither team scored until the bottom of the fourth when the Broncos brought home another run. The Ravens scored two in the fifth, and so did the Broncos. In the final inning, the Broncos gave up a run in the top half before ending the game by a final score of 15-4, courtesy of a walk-off triple by Brodie Maloney.
Junior Austin Thomas threw 5 innings, giving up 6 hits, 3 runs (only one earned), 2 walks, and earning 4 Ks. Te Broncos offensive MVP was Senior Brodie Maloney, who went 3-5 with 5 RBIs, including his 2 run walk-off triple. Junior Michael Kubiak and Mike Molina also had good days at the plate, going 1-2 with 3 RBIs, and 1-3 with 2 RBIs and a double respectively. The Broncos will play their final regular season game on the road against Frazier Mountain before jumping into playoffs, so wish them luck.
Tuesday Scores
Bishop Vs Cal-City: Bishop 15-4
Desert Vs Frazier Mountain: Desert 13-2
Rosamond Vs Kern Valley: Rosamond 11-1
Thursday Games
Bishop @Frazier Mountain
Cal-City Vs Kern Valley
Rosamond Vs Desert
League Standings
Rosamond: 9-0
Bishop: 7-2
Kern Valley: 5-4
Cal-City: 4-5
Frazier Mountain: 1-8
Desert: 1-8
Baseball, Bronco Baseball, Broncos, Bishop, BUHS, Walk-Off