Worth the Hype; Black Panther Review
Hang on for a minute...we're trying to find some more stories you might like.
Black Panther is now in its third weekend hitting the box office with between $61M-$67M, has a 97% fresh rating on Rotten Tomatoes, has 7.9/10 on IMDb, and has overall been very hyped up. So does Black Panther live up to the hype? I believe so. I remember when I thought that Captain America: Civil War was the most thought provoking Marvel movie that addressed complex issues. Now I am sure that Black Panther has taken that title for me. Black Panther came out after Thor: Ragnarok, and while I enjoy these two Marvel movie immensely, they have two completely different tones. While Thor offered a lot of laughs and fun, Black Panther was definitely more serious and dealt with more intense themes. SPOILERS AHEAD!!!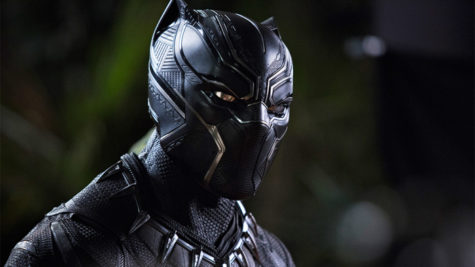 The Black Panther! The suit is intricate and ready to go! Photo by Marvel.
After the events of Captain America: Civil War, T'Challa didn't have enough screen time for me to get a really good sense of his character. I knew that he was sassy and fit into the Marvel Universe with his witty one liners and that he wanted to avenge the death of his father. I didn't really know all that much outside of that, and his character came off as very serious with a hardened heart. This makes sense considering the events happened during Captain America: Civil War. Luckily, I really got a sense of who T'Challa is in this movie, both as a king and Black Panther. During his fight for the throne with M'Baku, he beat him but did not kill him, even though he was clearly capable of doing so. T'Challa told M'Baku to accept his defeat and live for his people because they need him. This display of mercy shows T'Challa's kindness. T'Challa love his family, his people, and his friends and will go to any lengths necessary to protect them. T'Challa is a good man, but as his father told him, it's hard to be a good man and a good king.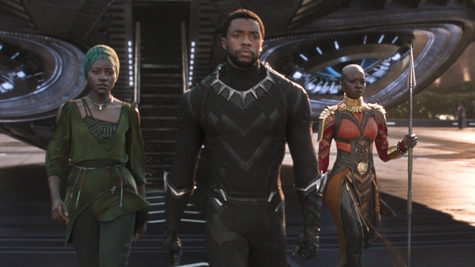 Icons. Nakia, T'Challa, and Okoye make an entrance. Photo by Marvel.
I really loved the characters in this film, and that's what really sold me. T'Challa has to deal with the fact that his father is not the perfect king and man that he always believed him to be. This is a bitter truth to swallow and T'Challa's story arch is well developed from here on out. I really loved all of the main female characters in this movie as well. Nakia is strong and an excellent fighter who will not hesitate to fight for what she believes in, much like T'Challa. Although Nakia was ultimately paired up with T'Challa, I never felt like this romance was forced and Nakia remained her own character. Unlike T'Challa, she wants to help everyone she can, not just those in Wakanda. I loved her big heart and her unrelenting ambition. Okoye and the rest of the female warriors were simply amazing. Whenever they were on screen, I was absolutely captivated by their power and strength. Okoye was extremely loyal to the throne and was absolutely willing to lie down her life for her king. I have to say the that the party scene where she threw her wig and went straight into fighting was one of my absolute favorites. I also really enjoyed her flaws. Okoye was loyal to a fault, and when she decided to follow Killmonger, I felt saddened and even a little betrayed. Okoye did end of redeeming herself, though.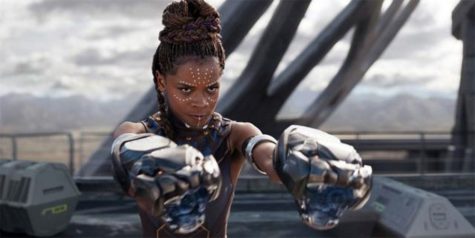 Nothing But Respect For My Princess. Shuri gets ready to fight with her own invention. Photo by Marvel.
I have to say that Shuri was my absolute favorite character. As soon as she walked away from T'Challa while flipping him off, I knew I loved her. Shuri is hilarious and absolutely brilliant. I loved seeing her dynamic with T'Challa. They're siblings and love to mess with each other, but they do love each other and want to protect the other. It was refreshing to see such a bubbly and young character in a world of superheroes. Shuri's enthusiasm for her inventions was adorable and I hope I get to see even more of her in the Marvel Cinematic Universe.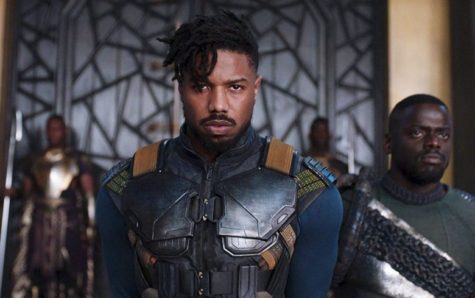 Take Back the Throne. Killmonger comes to Wakanda to claim the throne. Photo by Marvel.
I have to admit I was also quite shocked at how quickly W'Kabi was to turn to Killmonger's side. I understand his loyalty to Killmonger since he killed the man who killed W'Kabi's parents, but I thought T'Challa and him were closer. Speaking of Killmonger, what a villain! I loved Killmonger as the villian. I got a sense of how ruthless he was as soon as he shot his girlfriend without a second thought. Michael B. Jordan and Chadwick Boseman did an excellent job at playing off each other and the tears that they shed felt real. I was mainly saddened by Killmonger. In another universe, he could've been more like T'Challa. Seeing Killmonger turn into a kid in front of his father in that one beautiful shot was very powerful. Killmonger's father's death was a parallel to T'Challa's dad's death and you can see their pain, but Killmonger was just a child. Killmonger had good intentions to help those of African descent around the world, but since he is a villain scarred by trauma, he went about it the entirely wrong way.  I have to say that his death scene was both incredibly bada** and tragic.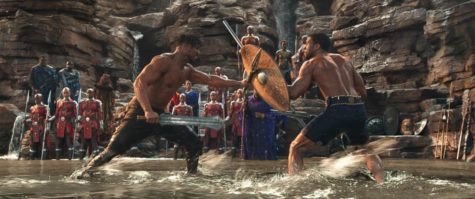 Only One. Killmonger and T'Challa battle for the throne. Photo by Marvel.
Black Panther isn't too humorous, but I was perfectly okay with that. The jokes never really pulled away from the movie if there was a serious scene going on, and I appreciated that. I have to admit that "What are thooooose?!" did feel like a slap in the face, though. Other than that, the humor was appreciated and well timed. M'Baku was a surprise favorite for me thanks to his offbeat sense of humor. The action was also amazing! It was thrilling, and a little bit more graphic for a Marvel film. I would pay to see Black Panther again for the car chase scene alone.
Overall, I would give Black Panther a solid 9.5/10 stars. The .5 taken off would be that I did feel the movie had some pacing issues and did drag a bit in the middle and vibranium wasn't explained all that well. Have you seen Black Panther? If so, what did you think? Let me know in the comments below.