Kiara Cox Interview: College Volleyball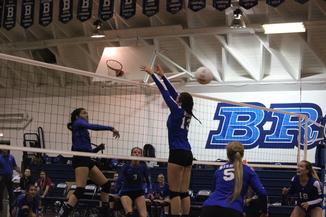 Recently I had a conversation with my fellow classmate Kiara Cox about what she plans on doing in college, and also talked about how she will be playing a college sport just like I am. I asked her some questions about where she is going, and who helped her get to where she is today. Here is how our conversation went:
Me: Where are you going to college and what division is it?
Kiara: I'll be going to Grossmont College in San Diego, CA and it is a Junior College.
Me: How did you find this school?
Kiara: My volleyball coach, Mrs. Frigerio, introduced me to the Coach at Grossmont.
Me: Have you visited the campus?
Kiara: Yes I have. It was great.
Me: What was the coach and team like?
Kiara: The coach is very tough but nice. They are pretty successful, and have a lot more wins than they do loses. The coach believes that if you work hard there will be a reward. The players are nice and they are very serious and passionate about playing.
Me: What made you want to play a college sport?
Kiara: I did not want my career to end in high school. I wanted to keep playing at the next level. I also think that playing a sport will keep me on track during school.
Me: What do you plan on majoring in after you're done with this JC?
Kiara: I'll be getting my AA first, then I hope to major in Psychology and minor in Spanish.
Me: Do you plan on staying on campus?
Kiara: There is no on campus housing so I'll be staying at an apartment off campus.
Me: Are you pretty excited or nervous about going? I know I am a little bit nervous.
Kiara: I am actually mostly excited to go to Grossmont.
Me: Good! And finally, who are your main supporters?
Kiara: My grandpa Wayne Cox, my mom, and obviously my volleyball coach.
So, not only did I get to talk to someone who is also playing a college sport, but I get to see how she is ready to take it to the next level. Congratulations to Kiara!