Spirit week!!!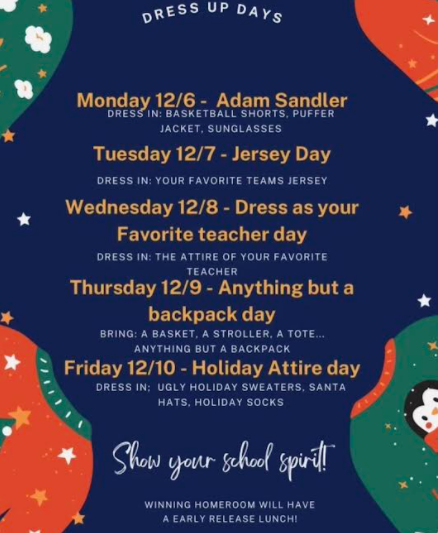 Spirit Week!!!
Spirit week starts on Monday the 6th through Friday the 10th. During this week homerooms will be competing for an early lunch. Students will be able to show off their school spirit by dressing up or doing the activity of the day. The homeroom with the most spirit will get an early lunch, and homerooms will be dressing up their doors to compete as well.
 Monday the 6th will be Adam Sandler day, dress up as your favorite role he was in a movie or, wear basketball shorts, a puffer jacket, and sunglasses. Tuesday is Jearsy day, wear your favorite team's jersey. Wednesday is dress as your favorite teacher day, wear the same, or similar attire as your favorite teacher. Thursday is Anything but a backpack day, bring a basket, a suitcase, a tote, even a stroller bring everything but a backpack. Friday is Holiday Attire Day, ugly sweaters, holiday socks, or holiday socks.
This week will lead into finals week so have fun broncos and good luck with finals. Finals will take place Wednesday, Thursday, and Friday.