Jacee Carpenter
While Jacee Carpenter is known for being a friendly, and easily compatible student at Bishop Union High School, most do not know what other interesting things she spends her time doing outside of school. I had the opportunity to interview Carpenter about some of her other hobbies and I discovered that she really enjoys playing for the Bishop Union High School ice hockey travel team. 
Carpenter who is now a Junior at the high school explains "I have played ice hockey since I was 12, but I started playing for the high school ice hockey team in the eighth grade, however, I first began playing roller hockey through the Sierra Roller Hockey League when I was five."
Carpenter explains that the closest rink they travel to is mammoth and while that one is closed they have to go to Tahoe for practice. Carpenter states that "my parents are my biggest supporters, they have given up countless weekends, and lots of money to drive my brothers and I to our hockey games and practices all over the place." 
She explains that the reason she continues to play is her love for the sport, her family is very involved with her sport, her father is her coach, and she says that "many of my friends play which makes the practices fun."
Jacee Carpenter, BUHS, Hockey, Ice hockey, Profile, Student
About the Writer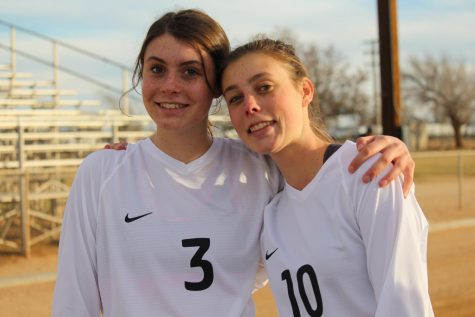 Brooke Winzenread, Writer
Brooke Winzenread is a Junior at BUHS. Some of her interests are Snowboarding, Mountain biking, and hiking. She is a really good student and an overall...