BUHS Administration Clarifies Hazy "Smoke Day" Policy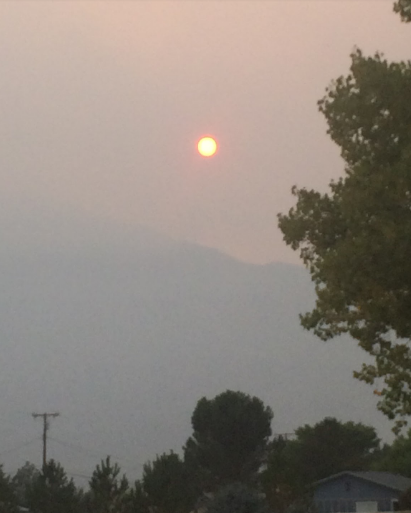 Dean of Students Jordan Rose provides the exact criteria that the admin use to call a smoke day. 
Admin implements new "Smoke Day" policy to preserve student and staff health during days of bad air quality.
Jordan Rose, Dean of Students, provided the exact criteria for calling a smoke day. He stated that the two different criteria are that the AQI (Air Quality Index) has to be over 200, or the PM 2.5 measurement has to be greater than 75. He said, to call a smoke day, it "doesn't have to be both."
If these criteria are met, where can students find out that the day is a smoke day?
According to Mr. Rose, "it should be posted in the announcements on the bishopschools.org website." Dr. Park, as a teacher, gets a notice from the administration in his email. Students also could get an email notification. 
Students might not know exactly when to expect a notification or an announcement calling a smoke day. They would like to know by the time they leave for school, so their parents don't have to take multiple trips back and forth from the campus.
So, Mr. Rose says "the goal is always by 6:00 AM that day." Students and teachers agree that is a good time to be notified.
Dr. Park approves of the new smoke day policy in that he knows being in the classroom while the smoke is bad is detrimental to his and his students' physical and mental health. 
"I know that a lot of people have expressed that they are very tired of the smoke," states Dr. Park. He noticed that the smoke "has a psychological toll" and it leads to "a feeling of helplessness." 
Like their teachers, BUHS students certainly approve of this new policy. They appreciate being able to take off their masks and not inhale a mouthful of smoke.
Freshman Rose Bracken said that being in school during a pandemic while being in severe smoke "is really bad, because if you go outside you don't have to wear your mask," and she wants to take a break from wearing a mask to get some fresh air "but the fresh air isn't there."
Many people approve of this policy, but it most likely will not be used year after year during wildfire season.
"If the smoke is really bad, it's not safe to have the window open," said Mr. Rose, referring to the safety precautions for proper ventilation during the covid pandemic. "Once the Covid pandemic has passed and we won't need to take extra precautions, being at school won't be different [than it would be during any other wildfire season] and we won't have to stay home."
This year's fire season is currently winding down, but if the fires continue to produce unhealthy or even hazardous amounts of smoke, the policy will stay in place. Hopefully, once the pandemic is over, everyone will be able to safely return to school and be able to learn without being negatively impacted by smoky classrooms. 
Jordan Rose, Smoke Day Policy, Stephen Park, Rose Bracken, Covid-19, BUHS rules