On the Lamb: Whiskey Creek Restaurant Review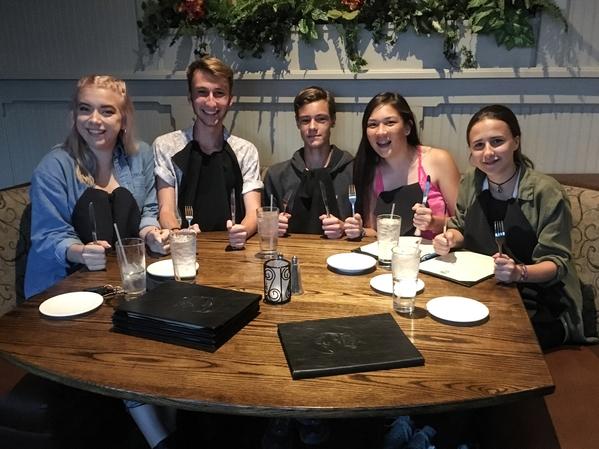 Hang on for a minute...we're trying to find some more stories you might like.
Attention BUHS foodies: Have you eaten at Whiskey Creek, the new traditional American restaurant town, reopened under new management? For this edition of "On the Lamb," I met with a group of BUHS students at Whiskey Creek to dine and share our experiences. In this review, I was accompanied by Jordan Kost (junior), Nathan Gardea (junior), and Cons Saturio (junior) and we were ready to satiate our hunger and excite our curious taste buds.
From the start, we were impressed by our waitress as she was personable and joked around with us. However, we were mildly disappointed when she neglected to bring us the complementary bread and butter after assuring us she would. Yet, we knew that Whiskey Creek can get busy at night, so things like this can happen.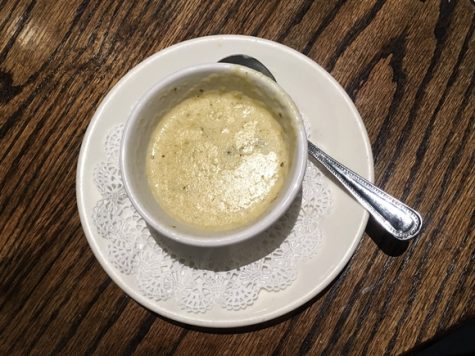 The first dish we tried was a small cup of the Broccoli Cheddar Soup, which came as a complimentary starter to our main dish purchase. The soup was light enough that it did not spoil our appetite for dinner. In commenting on the soup's appearance, Nathan said, "The thin cheesy swirl is inviting my saliva." Jordan observed "the broccoli and cheese balance each other out." Cons made the remark that "I don't like broccoli but I loved the soup." Nathan agreed, "I normally dislike broccoli but it was tasty."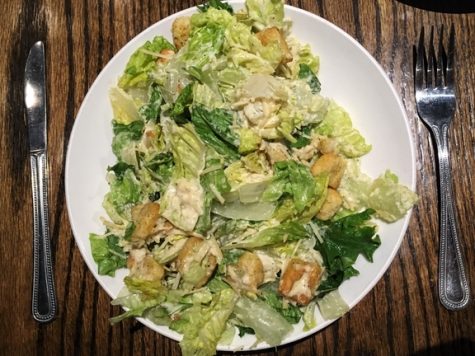 Next up, we tried the Classic Caesar House Salad. This is prepared with Whiskey Creek's own creamy house dressing, along with the topping of Parmesan cheese. The romaine lettuce was fairly bursting with flavor. "The perfect blend of greens and sauce," said Jordan. The pepper in the dressing added a subtle kick of heat (I found it to be delicious, but Jordan and Cons thought it to be too spicy for their liking.) The croutons provided an enjoyable crunch. I recommend this dish if you appreciate salads and are looking for a flavorful and filling meal.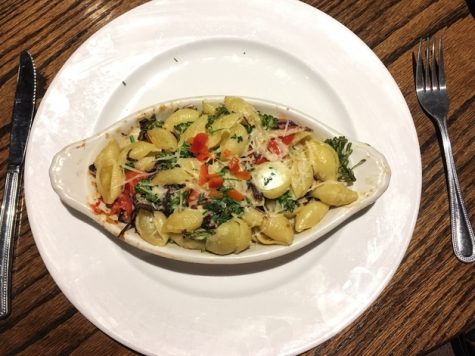 Venturing into the first of our main dishes, we shared the Baked Shell Pasta. Although it presents a delicious appearance of melting cheese and colorful mix-ins, the pasta dish lacks any distinguishable taste. Jordan noted that the pasta "lacks a flavor," and Nathan added that it was "a bit dry." The cheese was very mild, almost flavorless, and the only prominent flavors came from the added tomatoes and broccolini. Jordan commented, "The adding of the vegetables helps." With a differing opinion, Cons said, "I didn't like the broccoli in it." Overall, the dish was a disappointment.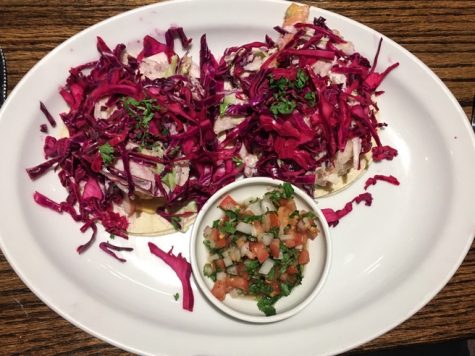 The second main dish we tried was the Fish Tacos. After having a taco, Cons said "It was sweet," referring to the presence of pineapple and apple. However, she could not taste the fish itself. She remarked that the only components she could taste were the fruit and the heaping topping of red cabbage. Nathan also thought his fish taco suffered from an "excess of coleslaw." Wisecracking, he said, "I thought I ordered the fish tacos but I got the coleslaw instead." While the plate gets points for its bright, tropical, and enticing presentation, this entree was not a standout.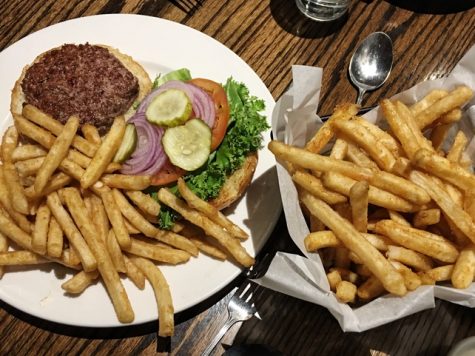 The third selected main course dish was the Classic Burger, medium rare. We all concurred that this burger was exceptional. Cons and Nathan could not deny that this tasty combination for this burger was exquisite. For myself, I concluded it possibly the most tender and juicy burger I have ever had. The tender beef atop melting cheese created a truly perfect bite. These soft elements were well-balanced with the crunchy accouterments of lettuce, onions and pickles. Jordan mentioned that the special sauce that comes with the burger "adds it's own special flavor." If you are a burger enthusiast looking to satisfy your cravings, you MUST order this dish. Jordan declared it: "Good old American food."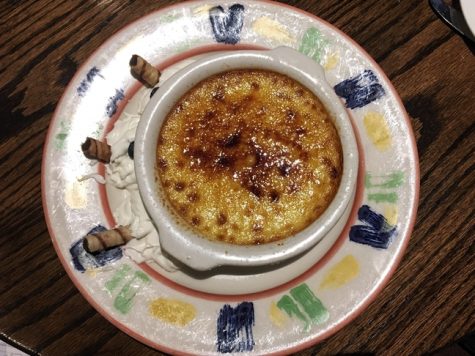 On to the most important part of the meal, dessert! I ordered the Creme Brulee. It looked impressive, but ultimately it was deemed to be super sweet, tasting exactly like a plain vanilla pudding.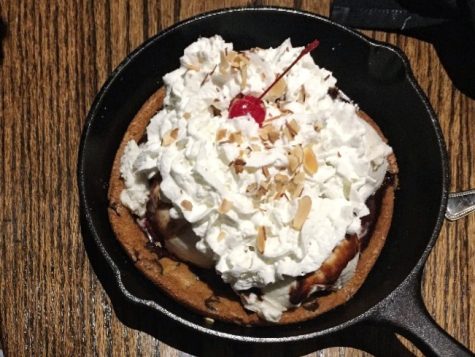 Jordan and Nathan finished the night with The Cookie Monster which is much like a "pizookie" from BJ's and Jordan described it as "cookie sandwich heaven." He added, "There is a lot of chocolate, but that's counteracted by the vanilla ice cream." The boys enjoyed the sweets but a few bites in, Nathan said it was "overwhelming." Between the two of them, they didn't finish The Cookie Monster. Nathan admitted, "we could not possibly eat the excess amounts." It was a fun and enjoyable dessert and we recommend that you share this with a group.
The dishes we sampled were pretty inconsistent. Whiskey Creek has well mastered dishes that we were privileged to eat but there were also some less impressive plates. The prices for the food were moderate for a classic sit-down restaurant with table service, dim-lighting and traditional decor. Overall, dining at Whiskey Creek with friends is a fun experience, and with well-advised selections from the menu, a tasty and satisfying meal. 
On the Lamb, Whiskey Creek, Restaurant Review, Bishop Restaurant