Broncos Fall to Frazier, Now off to Playoffs
Hang on for a minute...we're trying to find some more stories you might like.
Bishop vs. Frazier
Bishop Broncos got swept by Frazier Mountain for the second time this year in just three sets. The score of the first set was 25-12 following the second set 25-18 and finishing the match up scoring 25-20.
I talked with #10 Paige Vance about her last league game as a senior. I asked her a few questions one including, what was the difference between the first and last time the Broncos played the Falcons and she said, "We've definitely grown as a team, we've all become better players and bonded more, so I think that definitely made all the difference. "
I also talked with Vance asking her what she will miss the most about playing with the team that has formed during the 2019 season and she replied with, "I'm going to miss the long practices and laughs with this team, I've never been so close to a team and I'm definitely going to miss every single person because they're like a family to me."
The Broncos will start playoffs on Wednesday, October 30th against the Cal City Ravens.
Bronco Stats:
Cassidy Mann: Kills-6, Digs-3, Assists-6
Paige Vance: Kills-2, Digs-3, Assists-1
Hana Hogan: Kills-1, Digs-1
Sadie Dishion: Digs-3
Sophie Gutierrez: Digs-8
Haven Del Giudice: Kills-4
Mercedes Jahn: Digs- Digs-3
Mary Suver: Digs-3, Assists-5
Idalia Jimenez: Kills-2, Digs-3, Assists-1
Eva Weaver: Kills-1, Digs-1
BUHS, 2019, Broncos, Frazier, Bishop, Paige Vance
About the Writer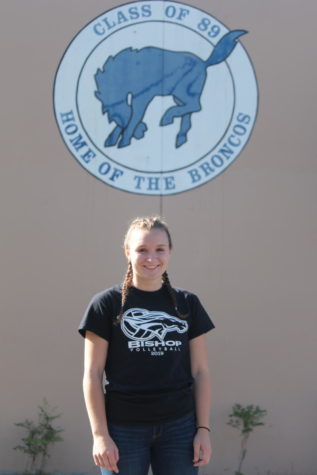 Sadie Dishion, Journalist
Sadie Dishion is a junior at Bishop Union High School. Sadie likes to play Volleyball and has been playing for 6 years. She likes to hangout with her friends...