Broncos Bury Desert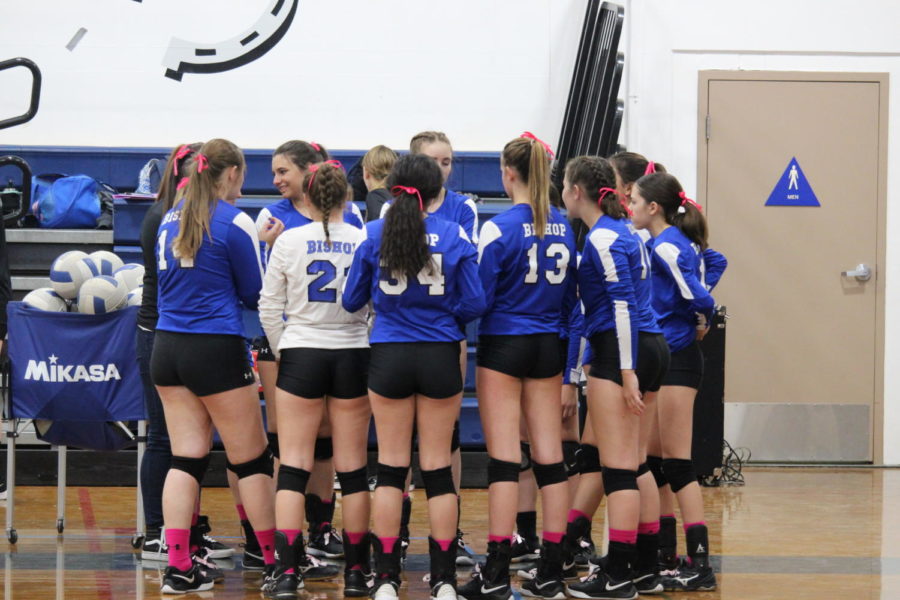 Broncos vs. Desert
The Bronco Varsity Volleyball team traveled to Edwards Air force base completing a season sweep of the Desert Scorpions.  October 10 Bishop faced Desert for the second time this season in High Desert League play. The Broncos swept the Scorpions in three sets. The scores were 25-9, 25-3 and 25-20. 
I am a captain on the Varsity Volleyball team and I feel there were some differences between the first and second games with Desert.  "I think the second game was just way more smoother than the first. For some reason we tend to make our first game our warm up game which usually sets up how we are going to play for the rest of the match. The second game we made more of our serves than the first and that helped us a lot keeping Desert at just 3 points."
Next up is a rematch with the Cal City Ravens. "If we don't get in our heads about facing "Cal City Falcons" I believe we will perform very well on the court. We will need to start out on fire in the first game and hold our energy throughout the match and if we do that I think we will hang with them and possibly pull ahead." 
The Broncos will face Cal City Ravens for the second time around this season at home on Tuesday, October 15.
Bronco Stats:
Cassidy Mann: Assists-10, Kills-5, Digs-4
Paige Vance: Kills-5, Digs-2, Assists-1
Sadie Dishion: Digs-13
Dakota Reynolds: Kills-2
Jordan Pritchard: Kills-1
Haven Del Giudice: Kills-4, Digs-1
Idalia Jimenez: Kills-7, Digs-17, Assists-1
Mercedes Jahn: Digs-7, Assists-1
Mary Suver: Kills-1, Assists-3, Digs-10
Eva Weaver: Kills-3, Assists-3, Digs-8
BUHS, Broncos, Volleyball, Varsity, Desert, Sadie Dishion