Broncos Fall to Huskies in Four Sets
Hang on for a minute...we're trying to find some more stories you might like.
Bishop Broncos vs. Mammoth Huskies
Bishop traveled to Mammoth on Thursday for the Huskies Senior Night. The Broncos pushed Huskies to four games but ended up losing. The Broncos dropped the first two sets 25-11 and 25-15, winning the third set 25-15, but then losing the fourth set 25-12.
I had the chance to catch up with varsity coach Laurence Blocker where I asked Blocker if the Broncos improved since the last time they played Mammoth, "The team definitely played better overall than our previous encounter with Mammoth. The Huskies are always a tough opponent and we had a decent showing. Too many mistakes on our part are what led to many points that Mammoth received."
I also had the chance to ask Blocker how the game went overall, "The biggest obstacle our team faces is consistency in execution and limiting our mistakes. Nearly every loss we have on our record this season has been because of errors on our side of the net (hitting, passing, and service errors). I look forward to the team turning it around for the 2nd half of league and playoffs."
The Broncos will face the Rosamond Roadrunners for the second time at home on Tuesday, October 8th.
Bronco Stats:
Cassidy Mann: Assists-11, Digs-3, Kills-3
Paige Vance: Kills-7
Hana Hogan: Kills-3, Digs-1
Sadie Dishion: Digs-2
Sophia Gutierrez: Digs-2
Haven Del Guidice: Hits-6
Idalia Jimenez: Digs-4
Mercedes Jahn: Digs-2
Mary Suver: Assists-1, Digs-2
Eva Weaver: Assists-1
BUHS, Volleyball, Mammoth, 2019, Broncos, Varsity
About the Writer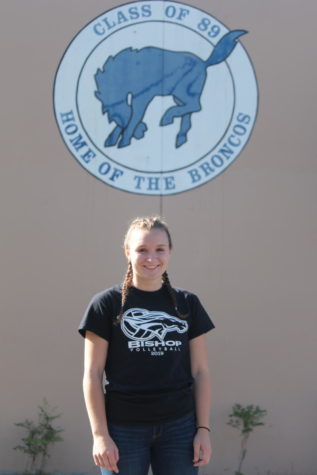 Sadie Dishion, Journalist
Sadie Dishion is a junior at Bishop Union High School. Sadie likes to play Volleyball and has been playing for 6 years. She likes to hangout with her friends...