Fitt is Ready to Run
Hang on for a minute...we're trying to find some more stories you might like.
Senior Rachel Fitt is Preparing for a Big Senior Cross Country Season
Senior Rachel Fitt is a top distance runner for Bishop Union High School. The senior is a stand out for both the track team in the spring and the cross country team that is set to begin their season. Rachel Fitt holds the school record in the 800 meter run with a time of 2:20.20 Fitt and her teammates will start their season on Saturday, September 21st at the Woodbridge Invitational in Corona.  I had a chance to catch up with Fitt for a quick Q and A before her senior season begins.
Q:When did you feel you gained a passion for running?
I gained my passion for running during cross country in middle school because of the freedom I felt and connection to others I could build.
Q:How do you prepare for a Cross Country race?
I prepare for a cross country race by learning what the course looks like if I have that ability, but also just through trusting the training and effort I have put in will get me through the race.
Q:Is there any nutrition that goes into training for Cross Country?
There is nutrition that goes into training for Cross Country, and while I am not always the healthiest when I eat, I try to eat foods that are good for everyone, such as fruits and vegetables, but also carbohydrates and sodium. It is also really important to drink a lot of water.
Q:Who influenced you in your life to be a runner?
My mom is my biggest influence to be a runner, she has always been a runner and I have grown up seeing her run and race, so I decided that I wanted to do it as well.
Rachel Fitt, Bishop High Cross Country, Running, Record, Cross Country, Hustle
About the Writer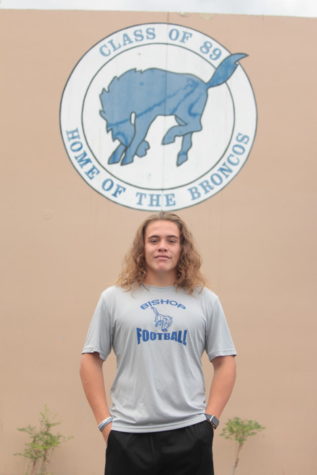 Joseph Molina, Sports Staff
Joey plans on a 2 years junior college and study Kinesiology and sports after he graduates high school when he's done with the junior college, he plans...