Broncos Bounce Back
Hang on for a minute...we're trying to find some more stories you might like.
Broncos Varsity Slays Lions
The Broncos were on the road to Yerington Friday night hoping to bring home a win after their loss to Fernley the previous week. Bishop's second consecutive game versus a team from the Silver state had to wait as the kickoff was delayed due to a prolonged JV game.  The wait was worth it as the Bronco Varsity cheered on the JV team to a dramatic comeback win, then hit the field.  
The first quarter was a defensive battle with both teams going scoreless.  Yerington broke through in the second quarter with Donavan Coplin connecting with Erik Garcia for a 29-yard touchdown pass. The Broncos fought back with a touchdown pass from Clay Omohundro to Luke McClean evening the score at 6-6.  
In the fourth quarter the Broncos picked up speed and scored two more touchdowns, one rushing touchdown from McClean and another from Steven Paco. The Bronco defense held strong and didn't let the Lions score again ending the game 20-6. 
The Bronco defense was tough against the run all night holding Yerington to 65 yards on 33 attempts.  Senior Tristan Valle led the way with 11 total tackles including 4 tackles for a loss. Junior Caden Lanphear made 8 total tackles with Wes Pettet, Luke McClean, and Kennedy Batchelder each recording 7 stops.   
The Broncos have a bye this week and return to action next Friday with a trip to Lake Arrowhead and Rim of the World High School.  
Bronco stats: 
Clay Omohundro – 53 passing yards
Luke McClean – 10 carries with 119 rushing yards, 2 receptions with 13 yards, 7 tackles, 4 solo, 3 assists, 2 punts 46 yards, 2 TDs, 1 two-point conversion
Wesley Petett – 9 carries with 38 rushing yards, 7 tackles, 4 solo, 3 assists, 2 solo, 2 assists
Joe Weaver – 3 receptions with 23 yards
Jayden Braithwaite – 5 tackles, 4 solo, 1 assist
Kennedy Batchelder – 7 tackles, 6 solo, 1 assist
Tristan Valle – 11 tackles, 5 solo, 6 assists
Steven Paco – 1 punt return 18 yards, 1 rushing TD
Broncos, BUHS, Football, 2019, Varsity, Yerington,
About the Writer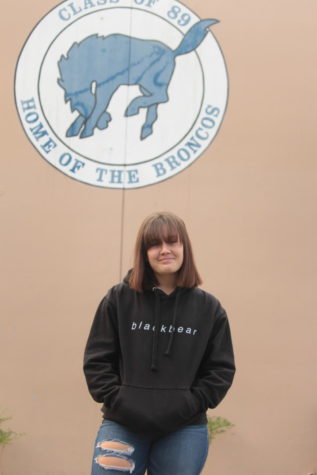 Paige Vance, Sport Editor
Paige Vance is a senior at BUHS. Vance loves playing sports, especially volleyball. After high school she plans on going to a 4-year college to study journalism....