Bronco Tennis Taken Down By Burroughs
Hang on for a minute...we're trying to find some more stories you might like.
Tennis Takes Their Second Loss Of The Season
On September 5, Bishop hosted the Ridgecrest Burroughs tennis team at the Bishop City Park for a friendly match. Burroughs swept the Broncos away winning 16-2. The only two games won by the Broncos were from singles player Brooke Winzenread and the doubles team of Cheyenne Yeager and Jacee Carpenter.
The single matches only won 1 out of the 9 games they played. Each single played 3 different girls for a total of 3 different games. The number 1 single's, Brooke Winzenread lost her first game 6-3, won her second game 6-4 and then lost her third 6-4. The number 2 singles player Madison Foster lost all three of her games, 6-0, 6-0 and then 6-1. The number 3 single's player was Sydney McAdams. She lost her games 6-0, 6-0 and 6-2.
For the doubles teams, Cheyenne Yeager and Jacee Carpenter were up first, they lost their first game 6-4, their second game went into a tiebreaker and they came out with a loss 7-5 and then finally won their last game 6-3. They were the only win for all of the doubles teams.
Next up Elizabeth Poncho and Olivia Seitz played and lost 6-0 in both of their games. For the third game, the coach, Patty Cummings, mixed up the team and put Olivia Seitz and Heaven Vitale but they lost 6-1. The third doubles team was Hailey Bragdon and Madelyn Bigham. They lost 6-1 and 6-2 and then again coach Cummings mixed up the team, hoping for a win and put Hailey Bragdon with Rihanna Carter, but they still came out with a loss 6-0. Leslie Mena and Melissa Castro played an exhibition match and lost 6-0.
The Bishop Broncos can hopefully pull through with a win for their first league game on October 1 against Kern Valley, at the Bishop Park.
bishop union high school, bishop high school tennis, bishop high school sports, girls tennis, bishop broncos, jordan winzenread
About the Writer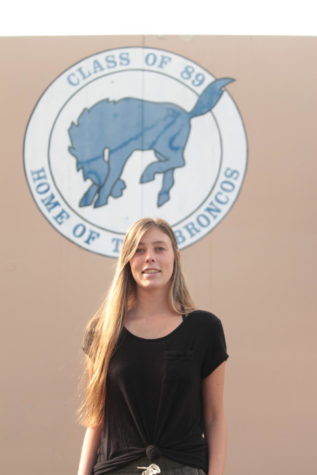 Jordan Winzenread, Sports Staff
Jordan Winzenread is a Senior at BUHS and a part of the sports staff for the Bronco Roundup. Outside of school, Winzenread enjoys playing soccer, snowboarding,...