Say Goodbye to Our Seniors
Senior Send-Off Rally
On May 23rd Bishop Union High School is going to be having their annual Senior Send-Off Rally where the 8th graders from HSMS, Round Vally, and Seventh Day Adventist head over to the BUHS Campus. At this rally, there will be games and students will welcome the incoming Freshman and bid their farewell to the seniors.
Beginning/Throughout rally: Band Playing
12:13 PM National Anthem- Abby Stoiber
12:18 PM Mr. Blocker Congratulate and Mention Spring Sports
Students involved: (Baseball, Track, Softball, Golf)

Students stand in their place
12:20 PM Game- Watermelon Eating Contest (play Wild N' Free song)
Incoming Freshman:

Will Hennarty/ Steven Poole

Madi Torres / Nimrit Khurana

Current Freshman:

Colton Matteson / Walker Rost Kruger

Isabeau Vasquez/ Geneva Molina

Current Sophomores:

Caeley Salque / Autumn Davis

Isaiah Garfield / Garrett Martinez    

Current Juniors:

Bodie Steinwand / Connor Lynch

Anaya Brown / Fiona Swanson

Current Seniors:

Will Dillard / Miki Rapp

Maddy Hernandez / Patricia Galvan

Staff:

Mrs. Gianopolous / Mrs. Honrath

Mrs. Glaser / Mr. Palu

Janitors:

Franz Borow / Ryan Daugherty  
12:28 PM Hula Hoop Relay
10 random students from each class in circles in the middle of the gym floor
12:36 PM Transition
All 8th graders will move to the West Wall.

Current Seniors will step down from the bleachers and move to the East Wall.

Current Juniors will move to the Seniors spot.

Current Sophomores will walk diagonally across the gym to the Juniors spot.

Current Freshman will move over to the Sophomore spot.

Current Seniors walk over to the incoming freshman and give them purple leis.

Incoming freshmen will move into the freshman spot.

Seniors will now circle up in the middle of the floor for their last Alma Mater of the 2018-2019 school year.
12:42 PM Alma Mater – Band Playing Alma Mater
RALLY END
Tags: BUHS, Rally, 2019, Senior, Incoming Freshmen, End of Year, HSMS
About the Writer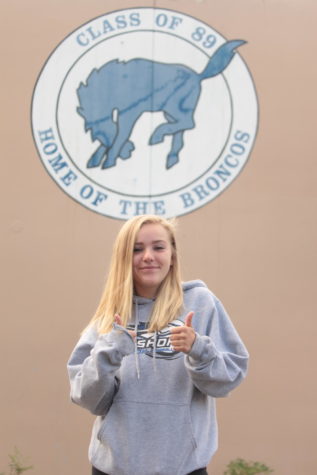 Shania Womack, Journalist
Shania Womack, a sophomore here at BUHS, is a journalist for Bronco Round-Up. Although she is not 100% sure of what she wants to do after high school,...