Your Broncos Are CIF Champs!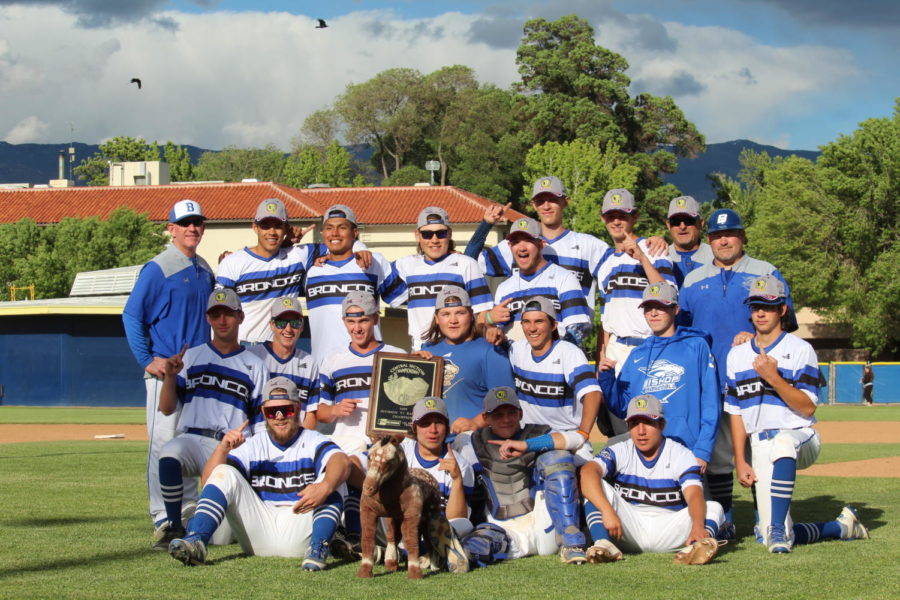 Matthew Rosga, Sports Editor
May 22, 2019
Bishop Claims CIF Title in Blowout Victory
After some early complications, the Broncos finally took on the Foothill Trojans at home in a battle for the CIF Championship. Sophomore Landon Kruse got the starting nod and came out and shut the Trojans down despite getting off to a rough start. The Bronco offense simply exploded in the bottom half of the inning putting up 9 runs, capped off by Senior Michael Kubiak's Grand Slam.
The Broncos held the Trojans scoreless again in the second while plating 6 more runs. After a scoreless top half of the third, the Broncos plated 2 more runs off of Senior Cal Omohundro's home run, putting the Broncos up 17-0. The Trojans managed to score their only 2 runs of the game in the 4th, but the Broncos responded with 2 more of their own.
The Broncos held the Trojans scoreless for the rest of the game and put up 3 runs in both the 5th and 6th innings, closing out the game on an Austin Thomas Strikeout, ending the game by a final score of 25-2.
This marks the first time that the Broncos have won the CIF Championship in 50 years, as well as the first championship ever won on Tatum Family Field. This victory is bittersweet, however, as now we have to say goodbye to the 9 seniors on the team; Michael Kubiak, Cal "Dal" Omohundro, Matthew Rosga, Mark "Marky Mark" Mayhugh, Brady Womack, Jalen "Jay" Watterson, Anthony "Ramon" Chavez, Austin "Homeboy" Thomas, and Landon Harper. It was surely a special sendoff for these boys to win a championship at home, and memory they will keep for the rest of their lives. Here are the stats from the game:
Bronco Stats
Mark Mayhugh- 3-4, 1 run, RBI
Michael Kubiak- 2-3, 4 runs, 6 RBIs
Cal Omohundro- 4-4, 2 runs, 7 RBIs
Landon Kruse- 1-2, 1 run, 3 RBIs, 4 IP, 3 hits, 2 runs, 2 ERs, 5 BBs, 4Ks
Braeden Gillem- 4-5, 5 runs, 3 RBIs
Austin Thomas- 3 IP, 1 hit, 1 BB, 4 Ks
The Broncoroundup will be back next year with coverage of all Bronco sports, but for now, remember the inspirational words of Mad Mike; "Losing sucks, be a winner!"
Baseball, Bronco Baseball, Broncos, BUHS, Bishop, CIF Champs