BISHOP GOLF WINS HDL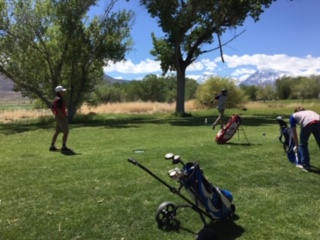 Bishop County Club played host to the final High Desert League meet of the season Wednesday.  With the best weather of the season, the Broncos shot their best round of the year, 447.
Will Stange had the low round of the day, 84.  Three Broncos shot their lowest total of the season.  Ryker Eropkin and Cameron Emme both shot 87, and freshman Micheal Boothe carded a 88.  Connor Holland shot a 101 rounding out the Bronco team score.  Ryan Forbis and Owen Hildenbrand are also members of the HDL Champion Varsity team.
Team Totals
Bishop 447
Rosamond 571
Desert 658
Individual Rank
1. Will Stange 84
2. Ryker Eropkin 87
2. Cameron Emme 87
4. Michael Boothe 88
The Broncos round on Wednesday qualifies them for the CIF central section Division 3 championships set for Valley Oaks Golf Course in Visalia.  The match is set for Monday, May 6.
BUHS, GOLF, CIF, SPORTS, HDL