KV Stays Perfect in HDL with Win Over the Broncos
Hang on for a minute...we're trying to find some more stories you might like.
Kern Valley Broncs Take the Win Against the Broncos
The Bishop Union Varsity Girl's Softball team traveled to Kern Valley to take on the Varsity Broncs on Tuesday, April 30th. The undefeated Broncs ended the game winning by fourteen points while the Broncos had none. The Bronco girl's coach has said that they have improved greatly, especially considering that Kern Valley is the toughest team in league.
"I'm proud of the girls for keeping their spirits up, trying their best, and improving in every category from our last game with JV," Coach Van Nest continues, "We are now 7-11 overall and 4-7 in league."
The girl's last game of the regular season will be at home on Thursday, May 2nd, against Frazier Mountain at 3pm.
Statistics:
Bishop: 0  Kern Valley: 14
MaNeSe Braithwaite pitched 4 innings, 10 hits, 4K's, 3 BB
Lauren Allen was 1 for 2 with a double.
Avery Swanson, Jenna Andersen, and Dot Jarvis all laid down bunts versus a tremendous pitcher.
League Standings:
Kern Valley: 12-0
Desert: 9-2
Rosamond: 7-4
Bishop Union: 4-7
Cal City: 3-8
Boron: 3-9
Frazier Mountain: 1-10
Bishop Union High School, Varsity Broncos, Varsity Softball, High Desert League
About the Writer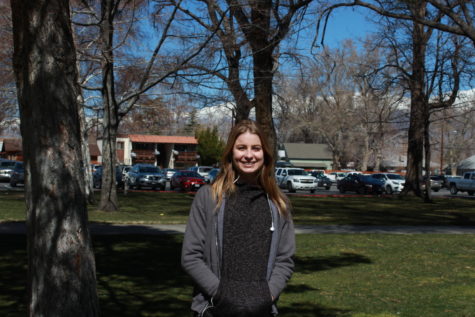 Rebecca Quintana, assistant sports editor
Rebecca Quintana is a Sophomore here at BUHS and is a passionate student filled with school spirit. Rebecca enjoys watching a variety of school sports...