Bronco Softball Slays the Serpents
Hang on for a minute...we're trying to find some more stories you might like.
Lady Broncos get the Win against Hawthorne
The Bishop Broncos beat the Hawthorne Serpents (Mineral County High School) on Thursday, April 18th in a home game played at the Bishop City Park. According to Coach Van Nest, the girls had an, "outstanding offense this game," although their defense still needs some work. She also included that the team is now 5-10 overall.
The girl's next game will be on Tuesday, April 23rd against Cal City in an away game.
Stats:
Bishop Union: 25  Mineral County: 11
MaNeSe Braithwaite pitched 5 innings, 6 hits, 7K's, 7 BB
Offensively:
MaNeSe Braithwaite 4 for 4 with a double, a triple, and 4 RBI's
Lauren Allen 3 for 5 with 3 RBI's
Kayla Jackson 3 for 5 with 2 RBI's
Jeanine Lomaintewa 3 for 4
Dakota Reynolds 2 for 3 with a double and a triple
Montana McIntosh 1 for 1
Isa Vasquez 1 for 1
Dot Jarvis 1 for 4
Jenna Andersen has a killer squeeze
League Standings:
Kern Valley: 9-0
Desert: 7-2
Rosamond: 7-2
Cal City: 3-5
Bishop Union: 2-6
Frazier Mountain: 1-8
Boron: 1-8
Bishop Union High School, BUHS Sports, Bishop Broncos, Varsity Softball, Softball
About the Writer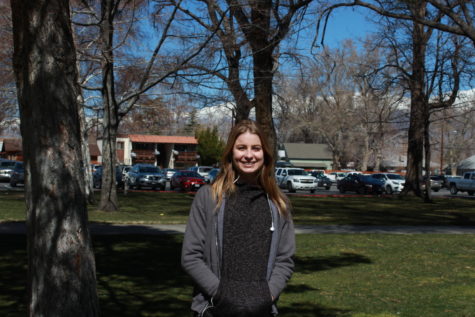 Rebecca Quintana, assistant sports editor
Rebecca Quintana is a Sophomore here at BUHS and is a passionate student filled with school spirit. Rebecca enjoys watching a variety of school sports...