Roadrunners Speed Past Varsity Broncos
Hang on for a minute...we're trying to find some more stories you might like.
Rosamond Roadrunners Beat Varsity Softball Girls
Yesterday on Tuesday, April 9th the Bishop Bronco Varsity Softball team traveled to Rosamond to play the Roadrunners; they lost by sixteen runs.
Coach Van Nest said that it was a, "rough outing for both teams defensively in the wind. We put the ball in play a lot and scored double digit runs."
The girls are now 2-6 in league and 4-8 overall, their next game will be at home against Desert on Thursday, April 11th.
Stats:
Bishop Union: 18  Rosamond: 34
MaNeSe Braithwaite pitched 4 innings, 23 runs, 14 hits, 4 K's 2 BB
Lauren Allen pitched 1 inning, 11 runs, 8 hits, 0 K's, 4 BB
Offensively:
Kayla Jackson 2 for 3 with a triple and 3 RBIs
Avery Swanson 2 for 5 with 1 RBI
MaNeSe Braithwaite 2 for 3 with 1 RBI
Jenna Andersen 2 for 2 with 1 RBI
Jeanine Lomaintewa 2 for 5
Lauren Allen 1 for 5
Isa Vasquez 1 for 5
Montana McIntosh 1 for 2
Fiona Swanson 1 for 1 with a triple and 3 RBI's
Bishop Union High School, High Desert League, Bishop Softball, Varsity Softball
About the Writer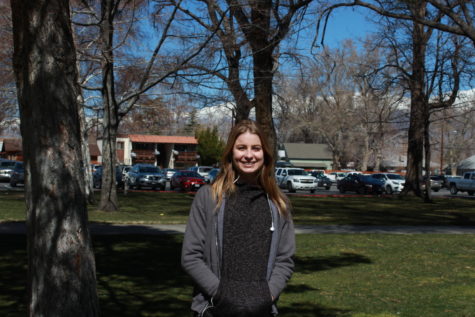 Rebecca Quintana, assistant sports editor
Rebecca Quintana is a Sophomore here at BUHS and is a passionate student filled with school spirit. Rebecca enjoys watching a variety of school sports...