Bishop's Van Nest Wears Many Hats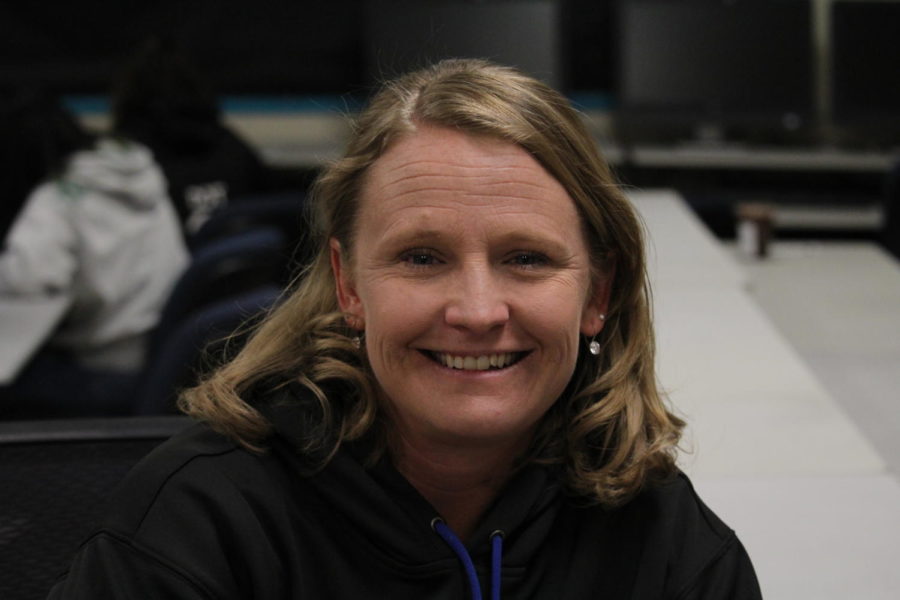 Stacy Van Nest Profile
Stacy Van Nest has been teaching at BUHS for 19 years and her efforts haven't gone unnoticed, she definitely goes above and beyond in her job(s). Along with being a math teacher, she's also the Athletic Director, the Bishop Teacher Association President, a coach, and a mother.
Most of Mrs. Van Nest's jobs are based around students, she spends countless hours a day on the field, in the classroom, and in her office. To her, the most satisfying part of her job is "In the math classroom, it is enabling students to reach that ah-hah moment. When you see the light bulb click and the concept you have been working on becomes mastered. On the softball field, it is seeing student-athletes being successful despite adversity. It is catching the long fly ball, the hard shot grounder, it is hitting for an extra base. As Athletic Director, it is being the one that makes sure all the rules are followed so students have the opportunity to participate in a sport that they love in a positive environment."
Mrs. Van Nest is always busy and stays on the run to complete her many jobs. During her stressful days, she says what keeps her going is the relationships she develops with her students, colleagues, coaches, and her athletes.  Keeping her busy schedule requires Van Nest to make sacrifices, "Sleep and sanity. Ok, kidding. But definitely sleep and time away from my family. Every once in a while I dream about what it would be like to go home at 3:35 and not have to worry about practice, a game, a meeting, a phone call, an email, a text and it seems like life would be pretty boring.  So although there are sacrifices there are benefits and one great skill I now possess is to be able to make every minute count. I am a people person and one of the great advantages of coaching and being Athletic Director is all of the adult connections I have. Teaching and teenagers are great, but it is nice to get off your island (a teacher's classroom) and have some built-in adult interaction into your day."
Throughout her career, Mrs. Van Nest is most proud of the impact she has on her students and athletes lives just by being herself. She always does her jobs to the best of her ability and with integrity despite students and technology constantly changing. "Honestly, social media and technology have young adults so connected they are desensitized. They have seen it all……..on youtube.  There are things shouted out in class "these days" that NEVER would have been dreamed about being said in front of a teacher. Unfortunately, there is a great sense of entitlement to some of our students in these more recent years. However, that is part of my job to teach them to work hard for their grades and accolades and to do so with respect."
Mrs. Van Nest is certainly an example of a teacher that goes above and beyond to serve her school and students.
Teachers, BUHS, 2019, Mrs. Van Nest, Athletic Director, Bishop