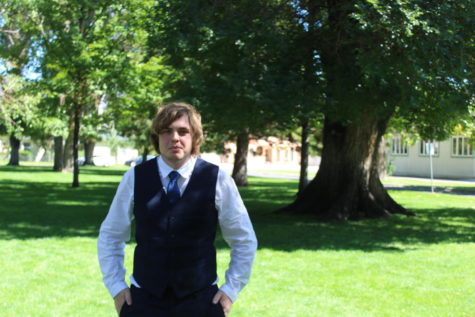 Tyler Beadle wants to become a business owner and has already started, making thousands a month. Depending on the month he has made over 3 to $8000. How many high schoolers can say that they've done that?
17 year old Tyler Beadle owns a minecraft server, where you can play a game where you team up with other players and create clans. You raid other teams items to win. He earns most of his money from players buying items online for the game. When he was asked how he came up with this idea he said, "It was already a game but I made it better because i'm a genius."
He started off by deciding that he enjoyed going on other people's servers and he wanted to make his own. After watching many youtube videos he figured out how and he paid $20. Who knew that you could makes thousands of dollars off of just $20?
Tyler Beadle, Writer
Apr 15, 2019

Did You Feel That? (Earthquake Recap)

(Story)

Apr 09, 2019

Wanna travel the US and get paid while doing so?

(Story)

Apr 01, 2019

Bishop Swim Team Tournament Soon

(Story)

Mar 18, 2019

Womens Football Starting in Bishop!

(Story)

Mar 12, 2019

Tia Slays the Competition at ORCA Duals

(Story)

Feb 13, 2019

Bishop Boys Soccer Game Canceled

(Story)

Feb 08, 2019

BUHS Girls Varsity Soccer vs. Frazier Mountain Falcons

(Story)

Feb 05, 2019

Ski and Snowboard – (Jan 31th – Feb 1st) – Race Results

(Story)

Jan 23, 2019

Upcoming Race: Bishop Ski Team (Jan 31 & Feb 1)

(Story)

Jan 23, 2019

Bishop Ski Race Team (Jan 14 to Jan 18)

(Story)

Jan 08, 2019

BUHS Climbing Club

(Story)

Dec 13, 2018

JV Broncos Basketball lose against the Rosamond Roadrunners

(Story)

Oct 24, 2018

Drew Brees is Making History

(Story)

Oct 03, 2018

JV Bishop Broncos Bounce Back with a win against Sierra Chieftains

(Story)

Sep 13, 2018

JV Broncos beat Rim of the World

(Story)

Aug 30, 2018

Broncos take a *DUB* from Ontario Christian

(Story)