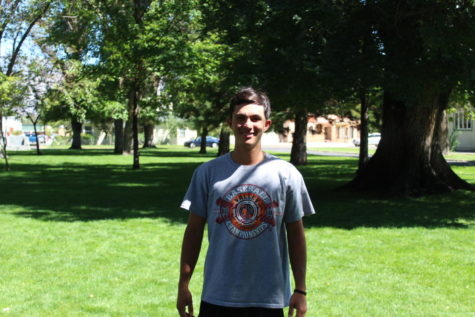 Matthew 'Rosga' is a senior at Bishop Union High School, as well a journalist for the 'Bronco Roundup' who has aspirations of being a Major League Baseball player. Rosga began playing baseball when he was 5 years old and has been hooked since. He has been able to balance academics and sports throughout his high school career by focusing himself fully on his academics while in school and afterwards practicing and perfecting his game. He has the desire to be recruited to any school to play baseball and than hopes to be 
drafted to play for the Angles. He than hopes to retire to be a sports journalist.
To reach his goal he has been hitting the gym, playing second baseman on the Bishop Broncos baseball team while still maintaining a 4.1 GPA. His biggest idols being Mike Trout, Alex Bregman, and Dustin Pedroia and he hopes to one day play as well as them.
Matthew Rosga, Sports Editor
May 22, 2019

Your Broncos Are CIF Champs!

(Story)

May 01, 2019

Bishop Blows Out KV in Last Game of Regular Season

(Story)

Apr 29, 2019

Bronco Boys Pull Off Important Win

(Story)

Apr 24, 2019

Bronco Baseball is on a Tear

(Story)

Apr 12, 2019

Broncos Boys are Streaking

(Story)

Apr 03, 2019

Broncos Trample the Falcons

(Story)

Apr 01, 2019

Broncos Split Their Spring Break Series

(Story)

Mar 22, 2019

Broncos Trample the Scorpions

(Story)

Mar 18, 2019

Rosamond Roadrunners Speed Past Broncos to 8-6 Win

(Story)

Mar 11, 2019

Broncos Off to a Hot Start

(Story)

Feb 26, 2019

Kori Boxley- Senior Profile

(Story)

Feb 22, 2019

Danica Thornburg- Senior Profile

(Story)

Feb 20, 2019

Bronco Basketball Run Comes to an End

(Story)

Feb 14, 2019

Bronco Basketball Continues On

(Story)

Feb 08, 2019

Broncos Trample the Falcons on Senior Night

(Story)

Jan 30, 2019

Broncos Blowout the Bobcats

(Story)

Jan 29, 2019

Callie Jepson Senior Profile

(Story)

Jan 28, 2019

Broncos Can't Take Down High-Flying Ravens

(Story)

Jan 23, 2019

Bronco Boys Sting the Scorpions

(Story)

Jan 23, 2019

Varsity Boys Drop a Close Game to Rosamond

(Story)

Jan 16, 2019

Michael Kubiak- Senior Profile

(Story)

Dec 07, 2018

Tia Barfield Senior Profile

(Story)

Dec 06, 2018

Bronco Basketball is Underway!

(Story)

Nov 15, 2018

Sydney Frigerio-Senior Profile

(Story)

Nov 08, 2018

Bronco's Football Season Comes to a Close

(Story)

Oct 31, 2018

Broncos Can't Take Down High-Flying Ravens

(Story)

Oct 24, 2018

The Broncos Keep Cruisin'

(Story)

Oct 17, 2018

The Bronco Boys Are On Fire

(Story)

Oct 12, 2018

Senior Profile: Michael Leroy Felgar Jr

(Story)

Oct 10, 2018

The Bronco Boys Are Streaking

(Story)

Oct 03, 2018

Bronco Boys Are On a Stampede

(Story)

Sep 27, 2018

Who Should Win the NL CY Young?

(Story)

Sep 26, 2018

Broncos Bring Home Eastern Sierra Football Classic Trophy

(Story)

Sep 24, 2018

The Case For Alex Bregman's MVP Chase

(Story)

Sep 24, 2018

Should the Los Angeles Angels of Anaheim Offer Mike Trout a Lifetime Deal?

(Story)

Sep 24, 2018

Eric Lind: Senior Profile

(Story)

Sep 19, 2018

Broncos Trample the Heralds in Last Game of Their Home-stand

(Story)

Sep 11, 2018

Broncos Continue Rough Start

(Story)

May 16, 2018

Bronco Boys are the Team to Beat

(Story)

Mar 16, 2018

Trevor's Latest Award

(Story)

Mar 14, 2018

Broncos Look to Take Down High-Flying Eagles

(Story)

Mar 07, 2018

Bronco Baseball Gearing Up For Yerington Tournament

(Story)

Feb 28, 2018

Bronco Baseball Gearing Up for First Game

(Story)

Feb 14, 2018

Lady Broncos Finish the Season on a High Note

(Story)

Feb 14, 2018

Lady Broncos Fall Short of Cal City Ravens

(Story)

Feb 07, 2018

Lady Broncos Continue to Feel the Sting of Defeat

(Story)

Feb 06, 2018
Feb 05, 2018

Bronco Girls Fall Short of Victory

(Story)

Feb 01, 2018

Senior Profile- Ashley Worley

(Story)

Jan 31, 2018

Broncos Girls Come Up Short Against Kern Valley

(Story)

Jan 29, 2018

Broncos Defend Home Turf

(Story)

Jan 24, 2018

Bronco Girls Snap Losing Streak After 5 Games

(Story)

Jan 24, 2018

Broncos Come Out on Top of Scorpions

(Story)

Jan 24, 2018

Varsity Girls Fall Short In Game Against Desert Scorpions

(Story)

Jan 18, 2018

Bronco Girls Hit Rough Patch in Season

(Story)

Jan 16, 2018

Broncos Take the Loss Against the Broncs

(Story)

Jan 12, 2018

Lady BroncOs Set to Take on Rival Broncs

(Story)

Jan 10, 2018

Bishop Girls Get the W Against Boron

(Story)

Jan 09, 2018

Bronco Girls Have Rough Break

(Story)

Dec 15, 2017

Lady Broncos Set For Match Up Against Wonderful College Academy Prep

(Story)

Dec 08, 2017

Bronco Girls are on a Stampede

(Story)

Dec 06, 2017

Broncos Come Out on Top of Eagles

(Story)

Dec 06, 2017

Highland High School Tournament Recap

(Story)

Nov 29, 2017

Girls Basketball Preview

(Story)

Nov 15, 2017

Senior Profile- Lorenzo Parra

(Story)

Nov 08, 2017

Bishop Takes Loss Against Kennedy

(Story)

Nov 07, 2017

Bronco Volleyball Suffers First Round Defeat

(Story)

Nov 02, 2017

Senior Profile- Hunter Waasdorp

(Story)

Oct 31, 2017

Cross Country Vs. Cal City and Mammoth

(Story)

Oct 27, 2017

Bronco Volleyball Vs. Cal City

(Story)

Oct 23, 2017

Bishop Vs. Desert Cross Country

(Story)

Oct 18, 2017

Cross Country Meet 10/11

(Story)

Oct 13, 2017

The Yankees Beat the Indians and Move on to ALCS

(Story)

Oct 13, 2017

BUHS Tennis Hosts HDL Individual Finals

(Story)

Oct 12, 2017

Booster Club Donates $720 to Yosemite Football Player

(Story)

Oct 11, 2017

Bronco Tennis Vs. Kern Valley

(Story)

Oct 05, 2017

Bronco Tennis Takes on Desert

(Story)

Oct 03, 2017

Bronco Tennis Takes on KV

(Story)

Oct 03, 2017

Bronco Tennis Takes the Win on Monday

(Story)

Sep 26, 2017

Bishop falls to Silver Valley 58-19

(Story)

Sep 21, 2017

Old Tradition Given New Life

(Story)

Sep 13, 2017

Bronco Tennis team defeated by Burroughs

(Story)

Sep 08, 2017

Broncos Suffer a Defeat to Burroughs on 9/7/17

(Story)

Sep 06, 2017

Bishop Tennis Vs Golden Valley

(Story)

Sep 01, 2017

Iron Man Volleyball is Here

(Story)