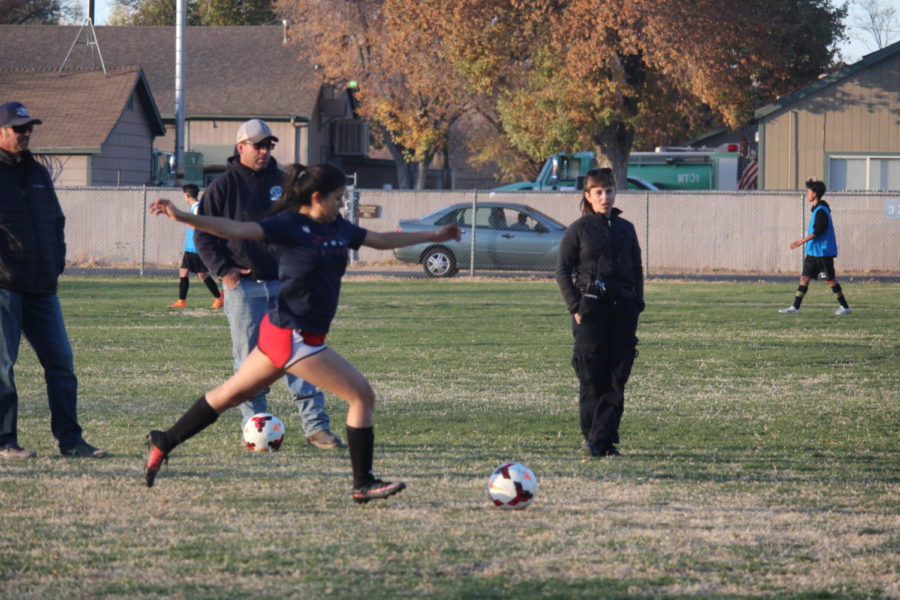 Andres Rios
Girls Soccer Heading Into Their First Game
With the first game of the season approaching, on Tuesday, November 19 in Mammoth, for the Bishop Union High School Girls Soccer Game, they need to take home the win in order to start their season off strong.
Last year, the Girls Soccer Team won the High Desert League Championship Title and made it to the second round of CIF. Six seniors; Emelli Mora, Brisa Lopez, Kendi Ochoa, Danica Thornburg, Dulcinea Ostly-Vasquez, and Kori Boxley graduated, so this years team is looking young.
For this 2019-2020 season, there is a total of six seniors; Daniela Santan, Karla Duenas, Jordan Winzenread, Hannah Miller, Makayla Simpson, and Haley Yarborough. The predicted main competition in HDL this year is Rosamond.  Two years ago, during the 2017-2018 soccer season, the girls tied for the HDL title with them and last year took the title for themselves with Rosamond following up in second.
Every year the BUHS Girls Soccer Team has made it past the first round of the CIF playoff games, so they are expected to represent Bishop Union High School well once again.
Bishop Union High School, Bishop Union High School Sports, BUHS Athletes, BUHS Girls Soccer, BUHS Winter Sports, Soccer Games